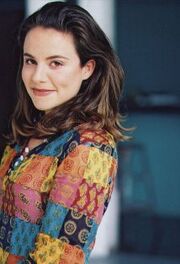 Stacey DePass is a Canadian born television, film, and voice actress who has provided voices for Producing Parker on several occasions.
Her other voice credits include 6teen, Stoked, Braceface, Ruby Gloom, Sidekicks, Harry and His Bucket Full of Dinosaurs, Turbo Dogs, Jimmy Two-Shoes, Miss Spider's Sunny Patch Friends, and The Cat in the Hat Knows a Lot about That!
Ad blocker interference detected!
Wikia is a free-to-use site that makes money from advertising. We have a modified experience for viewers using ad blockers

Wikia is not accessible if you've made further modifications. Remove the custom ad blocker rule(s) and the page will load as expected.