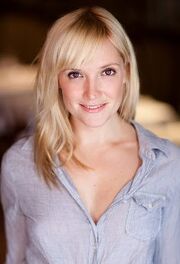 Stephanie Anne Mills (born in Edmonton, Alberta, Canada on March 7, 1979) is a Canadian born television and voice actress who has voiced on Producing Parker on several occasions.
Her other voice credits include Total Drama, 6teen, The Dating Guy, Bakugan Battle Brawlers, Rotting Hills, Sidekick, Ruby Gloom, My Dad's a Rock Star, and Miss Spider's Sunny Patch Friends.
Stephanie is best known for her roles on shows from Canadian based television studio Fresh TV as Kirsten on 6teen as well as Lindsay & Katie on Total Drama. The voice that she used for Helen was the same voice she does for Kirsten, and the voice she used for Mandy is the same one she uses for Lindsay
While usually credited as Stephanie Anne Mills, there have been a few occasions (Producing Parker being one of them) where she's been credited as Stephanie Mills.